Mainstay Eye: Looking for trouble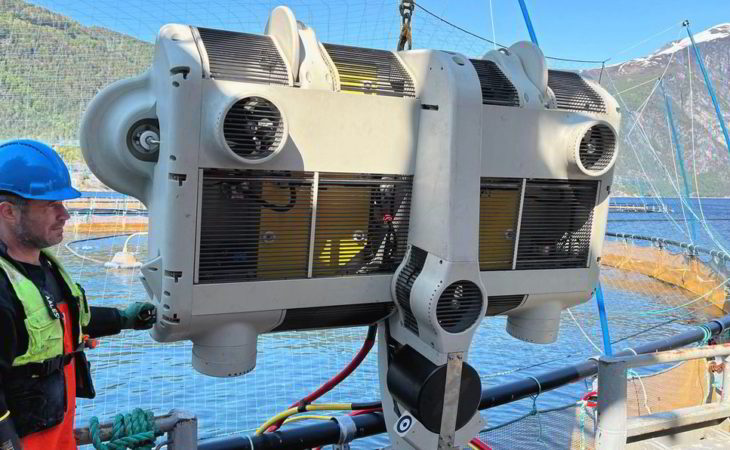 Spotting holes is one of the most difficult and tiring tasks of the net cleaning operator. Mainstay now presents a powerful AI solution. Imagine spending your entire workday watching the same movie: An endless, monotonous expanse of mesh flowing towards you, ghostly lit up by glaring LED-lights. It is your job to look for holes […]
Spotting holes is one of the most difficult and tiring tasks of the net cleaning operator. Mainstay now presents a powerful AI solution.
Imagine spending your entire workday watching the same movie: An endless, monotonous expanse of mesh flowing towards you, ghostly lit up by glaring LED-lights. It is your job to look for holes in the net. If you miss one, the consequences can be serious. Escapes are costly and pose a threat to wild fish populations.
– We wanted to do our bit to help solve this problem. Harnessing the Manta's six digital cameras to a machine learning algorithm seemed a very natural idea, says CEO of Mainstay AS Thore Standal.
Training the machine
The algorithm is key. It needs to be able to differentiate healthy mesh from mesh that is damaged or broken. It does this by first teaching itself what is normal. Then what isn't. And then it must determine which irregularities are holes and which are, well, just other stuff: Bits of seaweed, old repairs, pieces of rope, dead fish. Computers are well suited to this kind of work. They never get tired. They never get bored.
But they need to have the right software.
– We knew we would have to team up with the leading scientific communities to accomplish this. So that is what we did, says Thore Standal.
The Norwegian company Chronos specializes in artificial intelligence (AI). For years they have delivered high-end solutions in the fields of AI, computer science and big data. Their client list is impressive. If you have ever flown to Oslo with checked baggage, chances are you were able to retrieve it because of algorithms written by someone in Chronos.
– Hole detection is no trivial matter, but we have a lot of experience with image- and video analysis. Mainstay presented us with a challenge that pushes us to break new ground. There is a lot of exciting stuff going on in the field of AI. In this project, we use the very latest AI techniques to achieve what we want, says Chronos partner and senior advisor Espen Remman.
Extensive reporting
The video stream is analysed in real time. Irregularities are double checked, to minimize the number of false positives. After each cage the operator is presented with a short-list of images that he must look at and answer a simple question: Is this a hole? If yes, it is included in the report, together with positional data. If no, it is discarded. Either way, the algorithm becomes a little bit smarter. This is how machines learn.
Mainstay Eye does more than look for holes. It can rate the general condition of the net. And it can assess the amount of fowling. Over time this will help the farming companies optimizing cleaning frequencies and establish better cage maintenance routines.
Hole detection is not the only trick up the Mainstay Manta's sleeve. It scoops up a vast amount of data as it cleans: Water temperature, salinity, oxygen levels and cleaning pressure. All the data goes in the report for each individual gage, which is then uploaded to the cloud.
– The idea is to make all relevant information available to the farming companies. Data can be analysed in real time or stored for the future. In many cases third party companies do net cleaning as a service. Being able to document how, when and under which conditions cleaning took place may solve some discussions between service providers and farming companies, says Thore Standal.